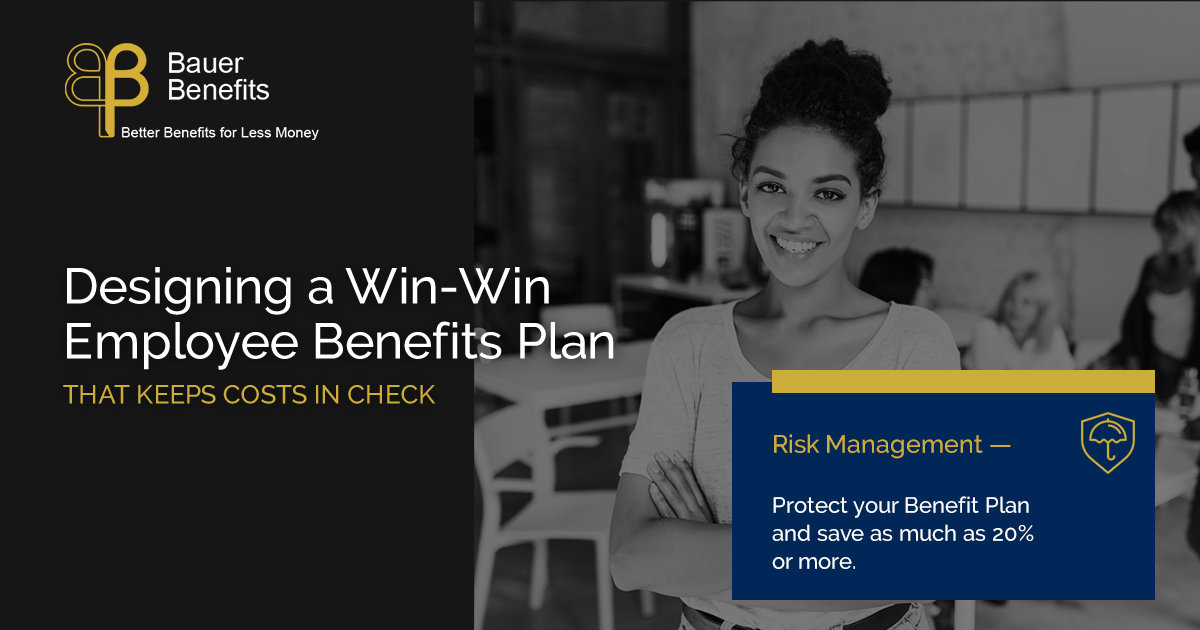 Designing a Win-Win Employee Benefits Plan that Keeps Costs in Check
Risk Management - Protect your Benefit Plan and save as much as 20% or more.
If you own a small to medium-sized company or oversee its benefits, you have most likely felt the rising cost of benefits.
The following measures will generate better success and help you manage your costs.
Remember that the primary purpose of your benefits plan is to help you attract great employees and keep them engaged in your corporate vision.
1. Build a Team that Stays with You
First off, most of the elements that are used to calculate insurance premiums are stacked against you: aging, inflation, healthcare trends, and new medical developments, just to name a few.
It is in the best interest of your business to develop long-term relationships with your employees. However, those employees invariably age, and aging is one of the main drivers of cost. Consider this analogy: much like cars, the older we get, the more maintenance we need.
The interruption of employee turnover and the high cost of training new employees prove to be very expensive and disruptive to your staff and customers. It's less expensive in the long run to hold on to your valuable team members.
2. Design your Benefit Plan Around Your Employees' Needs
When prospective employees are looking for work, you can expect that they will be looking for competitive wages, good benefits, and a progressive work environment.
When designing your benefits plan there are a few things to consider. The Health and Dental benefits that you give your employees are fully tax-deductible to your company and are received by your employees with no tax implication. Therefore, it makes sense to build an attractive plan that is focused on your employee's needs, which in turn encourages them to be more engaged in your corporate goals. Good benefits provide a cost-effective part of the overall remuneration for your staff.
3. Do a Benefit Needs Audit
In my years as a Benefits Consultant, I have seen many plans set up to benefit the Insurance Company… not the actual client.
It's a good idea to do a Benefits Audit to see if the benefits included in your plan meet the needs of your employees.
Are your employees single, married, young, old, or do you have a balanced mix? There are ways to adjust the plan to better serve the demographics of your employees. This often bears savings.
4. Creating a Dynamic Corporate Environment
Our work life encompasses a significant portion of our time:
There are 168 hours in every week.
We work an average of 40 hours per week.
We should be sleeping an average of 50 hours per week.
When you do the math, we end up working an average of 34% of our waking hours.
To keep employees motivated and engaged, it's important to build an attractive work environment. It's also important to hire compatible team members.
Building a healthy workspace will keep your people engaged and help you retain employees for the long term. People want to be part of a progressive company that is growing.
5. Promote a Healthy Lifestyle
Keeping your employee's general health front and center pays big dividends. Healthy people are generally happier and are nicer to be around. Healthy, Happy people perform better at work and present a much more positive vibe to customers and coworkers.  
What can you do as an employer?
Sponsor corporate team-building events.
Encourage healthy eating habits.
Subsidize fitness programs.
Consider dedicating some corporate space for exercise and recreation.
Have a diverse EAP program that promotes a healthy lifestyle and helps employees deal with problems.
6. Mitigate the Cost of Prescription Medications
The pharmaceutical industry is always looking to develop new and better medications to keep us healthy.
The problem is, that new drugs are generally very expensive. As a result, these new, expensive medications push the cost of benefits well above inflation. 
---
What can we do?
Bauer Benefits recommends an Insurance Carrier with a proprietary system called the Specialty Drug Management Program.
This program works to have the cost of Prescription Medications that are over the price of $10,000 annually diverted to a third party. Since its inception in 2019, this program has boasted a 95% success rate, saving my clients tens of thousands of dollars and protecting the financial integrity of their benefit plans.
It used to be that when a company had high claims experience, there was nothing we could do. Now, we go to work and help the client get their costs back in line and save them a lot of money.
It never hurts to have a closer look! Let's talk soon!