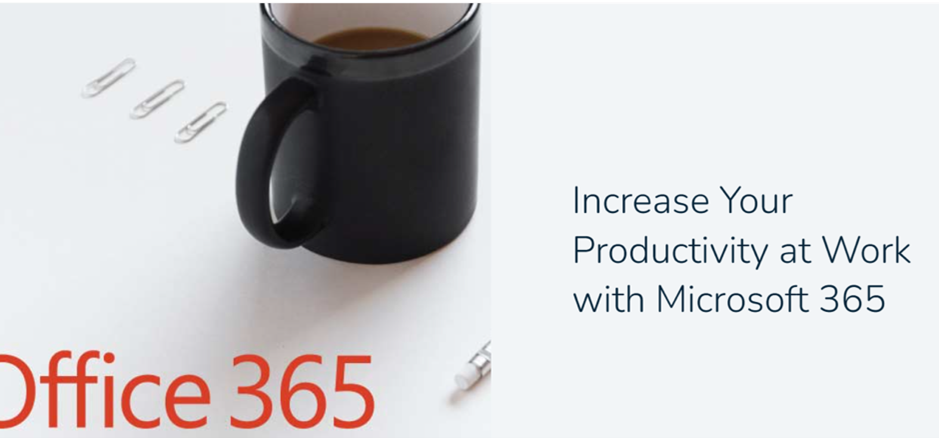 For many of us, a hybrid work experience is emerging, which can obscure the dividing line between work and personal life. Working from both the office and from home has great benefits, but it is time to explore new ways to experience the upsides of new work patterns.
From booking focus time to taking breaks between meetings, we picked the most popular productivity tips used that we use with Microsoft 365 Tools. Here are our top four work habits to try in 2023:
1. Enable Dark Mode
Spending many hours staring at a screen with white light causes eyestrain. Dark Mode offers us the benefits of decreasing visual fatigue and reducing battery usage in services and applications such as Microsoft 365.
The dark theme changes the default bright background colour in Microsoft 365 to a darker colour; this theme helps protect the eyes in low-light environments or if the user prefers to work on less bright interfaces.
According to a study by XDA Developers, it is possible to reduce battery consumption up to 63% when using Dark Mode.

2. Dictate
For people on the go or who can think and talk faster than they can type, you can dictate content in several Office applications in Microsoft 365. Click the microphone icon and start talking in Word, PowerPoint, Teams chat, and new emails created within Outlook.
3. Book Focus Time
We've all experienced days of back-to-back meetings and constant interruptions when it is hard to find a moment to focus on getting work done.
Some people even report spending 80% of their days collaborating, and research has shown it can take over 20 minutes to refocus after checking one email. These constant distractions can increase stress and lower productivity.
Rather than trying to cram work into the small pockets of time you have between meetings, block your calendar for a few hours every day for focus time to get work done without distractions.
You can even find and schedule focus time automatically in Microsoft Teams & Outlook with Microsoft Viva Insights, which helps to minimize notifications from Teams chats and calls during these blocks.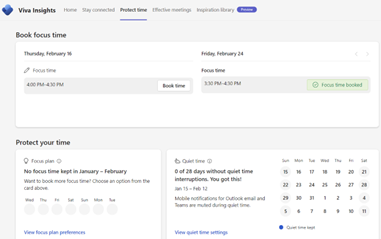 4. Shorten Calendar Appointments and Breaks
With 55% more meetings on calendars each week than before the pandemic, it's no surprise that back-to-back meetings increase stress and decrease your ability to focus.
The solution, take short breaks. Just five minutes can allow our brains to "reset" and reduce meeting fatigue. This helps boost our attention and engagement for the next task at hand.
So, while it may seem counterproductive, taking breaks is essential for productivity.
 
Take control of your Microsoft Office Calendar: File->Options->Calendar->Calendar Options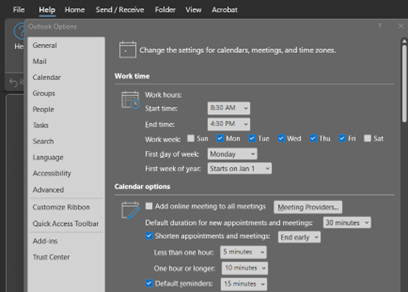 Author
Name:  David Cameron
Title:  CEO
Website: www.coretecsystems.com
Email: [email protected]

Company Summary:
CoreTec Systems is a Microsoft partner specialized in Cloud Applications. We focus on Enterprise Resource Planning (ERP), Customer Relationship Management (CRM), Office 365 Implementations, Migrations and Training. We are a certified reseller of Microsoft Cloud Solutions for Small to Medium Size Business. We provide support to businesses located across Canada.